Everything has started by changing on the law which allows foreigners can buy a property in Turkey without restriction
General Directorate of Land Registry and Cadastre which is active on behalf of Turkish Republic Ministry of Environment and Urbanization has been changed the law of the condition of having reciprocity for foreigners on title deeds has been terminated on 18th May, 2012. According to new law, foreigners can have a land or real estate as they are buying in their origin countries as having free hold title deed in Turkey for the properties they are buying. Right now, 183 country citizens can buy a property in Turkey without any condition. Some restrictions are valid for Greece or Ukraine as those country citizens cannot have a property close to sea facing to their countries. Furthermore, some another country like Syria, Armenia, Cuba and North Korea citizens cannot buy any property in Turkey.
So, let's check the numbers of real estate sector in Turkey. Because of the law of foreign investors have been changed in 2012, the figures later on 2013 has been taken into consideration in the study. First of all, we need to understand the whole real estate market in Turkey and what is foreign investors' share on the market.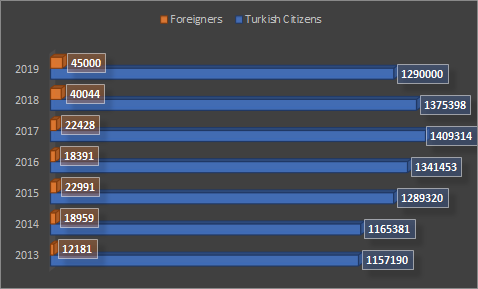 * Table-1: Sold out real estate figures comparing with foreign investors and Turkish citizens
Understanding Turkish Real Estate Market with the numbers
When we calculate last 7 years' figure foreign investors' percentage is 1.95%. The percentage has been reached to 3.37%in 2019 which foreign investors reached the maximum number of buying number in last decade. If we look at the figures, some parties are saying Turkish local real estate market is not doing good, so investing in Turkey is not the right time. But the figures are not saying the same and the numbers are proving that Turkey is becoming more popular and popular by the years are passing by the investors who are looking for an apartment for sale in Turkey.
Let's check the numbers of foreign buyers in Table-1. We can easily see that the foreigners have increased their investments in Turkey year by year except 2016. Let me explain what happened in 2016 which effects the foreigner investors negatively. As you may know, Turkey has got over coup attempt which was organized by Fetullah Gulen who is still living in the USA. In that time, Turkey has been pointed as not stabilized country by some parties especially from Europe and the USA to stop its powering up in the geography where its located after announcements of new Istanbul Airport which is now actively using and Canal Istanbul project which was already announced. Because of negative opinions in all over the world's media, foreigners have curbed their investments in Turkey in 2016. After that time, we can also see the speeding up time for foreign investors again until end of 2019.
Which cities of Turkey are more popular by foreign investors by country of origin?
So, let's check which country citizens are buying from which cities in Turkey mostly and for which purposes which cities are became popular.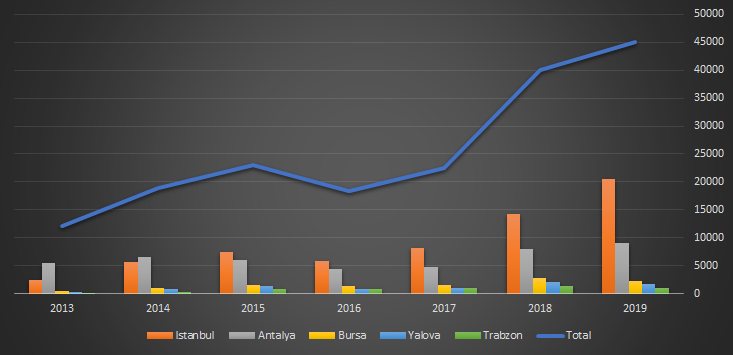 * Table-2: Sold out real estate figures by cities by the foreign investors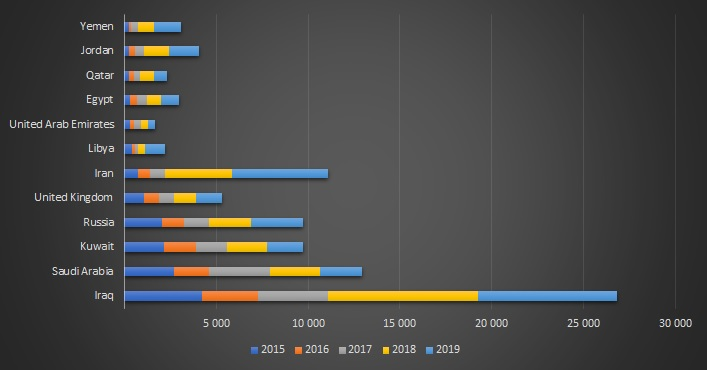 * Table-3: Sold out real estate figures by country of origin by the foreign investors
We can see that Istanbul, Antalya, Bursa, Yalova and Trabzon are mostly property bought cities by the foreigners but what makes the cities special for the investors? If we check the Table-2, Antalya was the most popular city in Turkey in 2013 and 2014, but after 2015 and onwards Istanbul became the most popular and increase its attraction remarkably. For Bursa, Yalova and Trabzon importance rank on the investors are not changing but the numbers of property sold out over the years are increasing for each city. If we can check the Table-3, we can see that some countries such as Kuwait, Russia and the United Kingdom have invested heavily beginning of the decade, but they are not keeping that share when they started in 2013 in the market. On the other hand, we can see remarkable increasing of Iraqi, Iranian, Jordanian, Libyan and Yemeni citizens have increased their shares in the market by investing in apartments for sale in Istanbul. Istanbul became more popular by foreign citizens who are looking for an investment in Turkey for citizenship and investment with high rental income and high capital appreciation in Istanbul. Basically, rather than the foreigners who are looking for an apartment for family living purpose, Istanbul attracts the investors who are looking for good investment opportunities. That's why most of Saudis, Kuwaitis, Iranians, Libyans, Emiratis, Egyptians, Qataris, Jordanians and Yemenis are choosing Istanbul. Antalya is popular by mostly Russians, Europeans and British people for tourism purpose as well as investment purpose. Yalova, Bursa and Trabzon are so popular by the Arab origin citizens with their unique climate and locations as being located by the beaches and surrounding by the forests.
Numbers are proving the popularity of Turkey for the investors, no need to comment on it
All of the figures above, have been taken from TUIK (Turkish Statistical Institute)'s website and hope that we can give some brief information about real estate market in Turkey focussed on foreign investors. The numbers are saying that, Turkey is attracting foreign investors more and more as time goes on and it is the exact time to buy an apartment in Turkey. "The best time to buy a home is always five years ago" saying by Ray Brown will show its legitimacy in the future in Turkey. PropertyTR is at your service to find you the best possible property you are looking for. Don't waste your time, invest in Turkey…
If you want to watch the interview video of the subject, please click on the link
– Abdullatif Koc, Vice General Manager at PropertyTR