If you are one of those who love luxury life in Istanbul, you may want to choose a villa. Luxury villas for sale will bring your life to the best level with the comfort and high living standards they provide. If you are looking for the best quality for yourself, be ready to examine the variety of luxury villas for sale waiting for you in Turkey. You can start to get to know the ultra-luxury villas that await you, especially in Istanbul. There is detailed information about the luxury villas you can own in our article. So, start taking steps to make your choice.
Check Out the Luxury Villas for Sale Waiting for You in Istanbul
The city of Istanbul stands out with its affordable prices and attractive properties. Istanbul is generally preferred by tourists and researchers in Turkey. Start to examine the opportunities it offers to get to know Istanbul, which offers you excellent villas with the advantages it provides in every area.
Luxury villas in Istanbul are at very affordable prices compared to many villas in Europe. The best quality decors are used in the designs of the villas for sale. In this way, you can buy the villa with the design that suits you.
Many of the villas in Istanbul have a view. You can increase your level of life to luxury, especially in villas with Bosphorus views.
There are many popular regions in Istanbul. With the villas you will buy from these regions, you can easily reach every part of Istanbul.
The luxury villas you will buy will continue to increase in value over time with their locations. In this way, if you plan to sell your villa in the future, you can make a lot of profit. Thanks to the location and luxury of your home, you can succeed in investing in your future.
There is a variety of villas in Istanbul that appeal to every style. You can have a lively life with the villas that you will usually buy from symbolic districts.
If you want to have these advantages, do not wait any longer to buy a luxury villa. As PropertyTr, we aim to provide you with a privileged service. That's why we are waiting for you to fascinate you with our villa options.
Should You Choose an Apartment Instead of a Luxury Villa?
You may be undecided about the luxury villas for sale you will buy in Istanbul. Because there are many types of properties waiting for you. The most popular of these are apartments and villas. If you are undecided about apartments and villas, you can examine the options we offer for you.
Apartments for Sale in Istanbul: If you like the complex life in Istanbul, apartments will be much more suitable for you. You can be in contact with many people in terms of neighbors. In addition, it is possible to benefit from many services in the life of the site. You can live your luxurious life thanks to services such as a Turkish bath, pool, spa, gym. Below we share some apartments for you. You can view them by clicking on them.
Luxury Villas for Sale in Istanbul: If you want to have a large area of your own and a private garden that interests you, you can choose villas. You can make a difference in your life, especially thanks to the villas with the view and the pool. You can encounter many design wonders in the villas you will come across. Each villa will attract your attention with its special decorations. You can get to know the villas that will make you feel peaceful with their locations. We leave the villa links below for you. Start by clicking on them.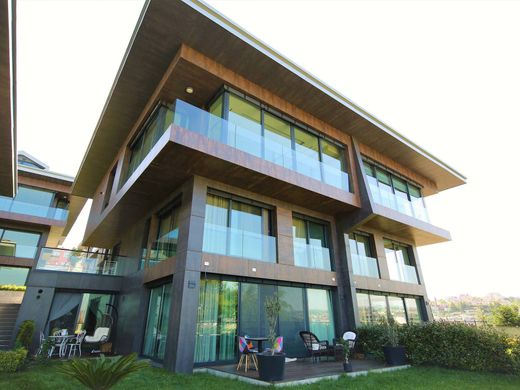 If you want to meet more options and luxury villas for sale opportunities, get ready for PropertyTr privilege. Perfect apartment and villa options are waiting for you.