5 Destinations to Visit in Turkey During Winter
Summer tourism season starts in May in Turkey and ends in October. People from different nationalities visit Turkey to make use of hot summers, Mediterranean life and magnificent beaches. In other months, attention to tourism decreases but we can still say it does not completely end.
Some of the new areas in Turkey still wait for tourists to explore them even in winter season. Low prices and silence could be charming for you in those times. And, what should be in your list if you decide to come to Turkey between November and April?
Istanbul's Winter Glory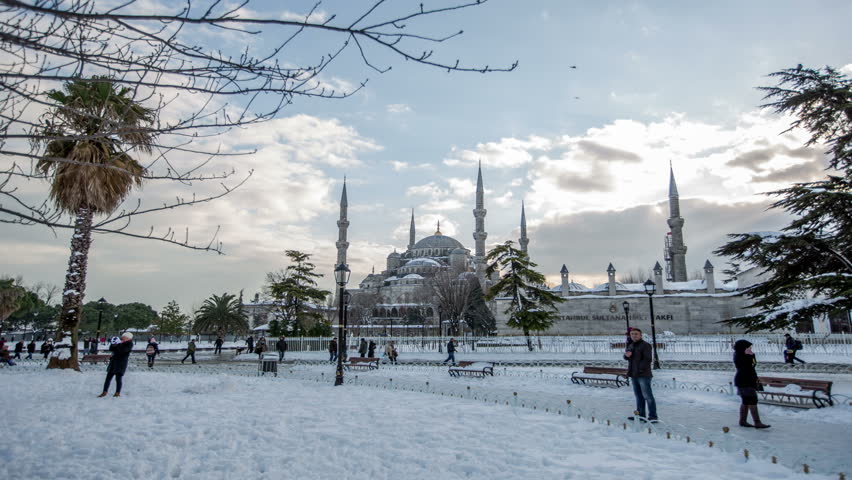 Nothing changes in Istanbul when we see how big city it is. By being the largest city in Turkey, Istanbul welcomes people with touristic and trade advantages. Historical places like Sultanahmet are open to visit for you. Business in Istanbul is also active during these times thanks to places like Grand Bazaar etc.
There is also a bonus in Istanbul. Street parties in Istanbul in New Year could make you feel amazed at firework shows and different performances. New Year in Istanbul is a huge opportunity for business.
February and March is usually rainy season in Istanbul and you may even see snow covering the city in November, December and maybe in January. Just do not forget to check the weather in Istanbul and choose your clothes carefully. Your visit will be as fun as it is in summer.
The Comfort of Cappadocia and Skiing on Mount Erciyes
Cappadocia is a famous place which takes places in central Anatolian region of Turkey. Cappadocia is full fairy chimneys and interesting caves to visit. In summer, everywhere is green in Cappadocia. In spring, you can see many flowers and trees in the area. In winter, you may see this beautiful region under snow.
This region is mostly quite in winter season. All activities in the region is also active in winter including air balloon rides. UNESCO World Heritage site of the Goreme Open Air Museum which is full of cave churches from the 13th century, is also open for visits. If you decide to go to Cappadocia, make sure that you choose a hotel with good heating solutions as the weather is often cold in this area. If you came here in winter season and you wanted to take advantage of it, you could visit Mount Erciyes near Cappadocia, one of the most popular skiing destinations of Turkey.
Uludag Ski Central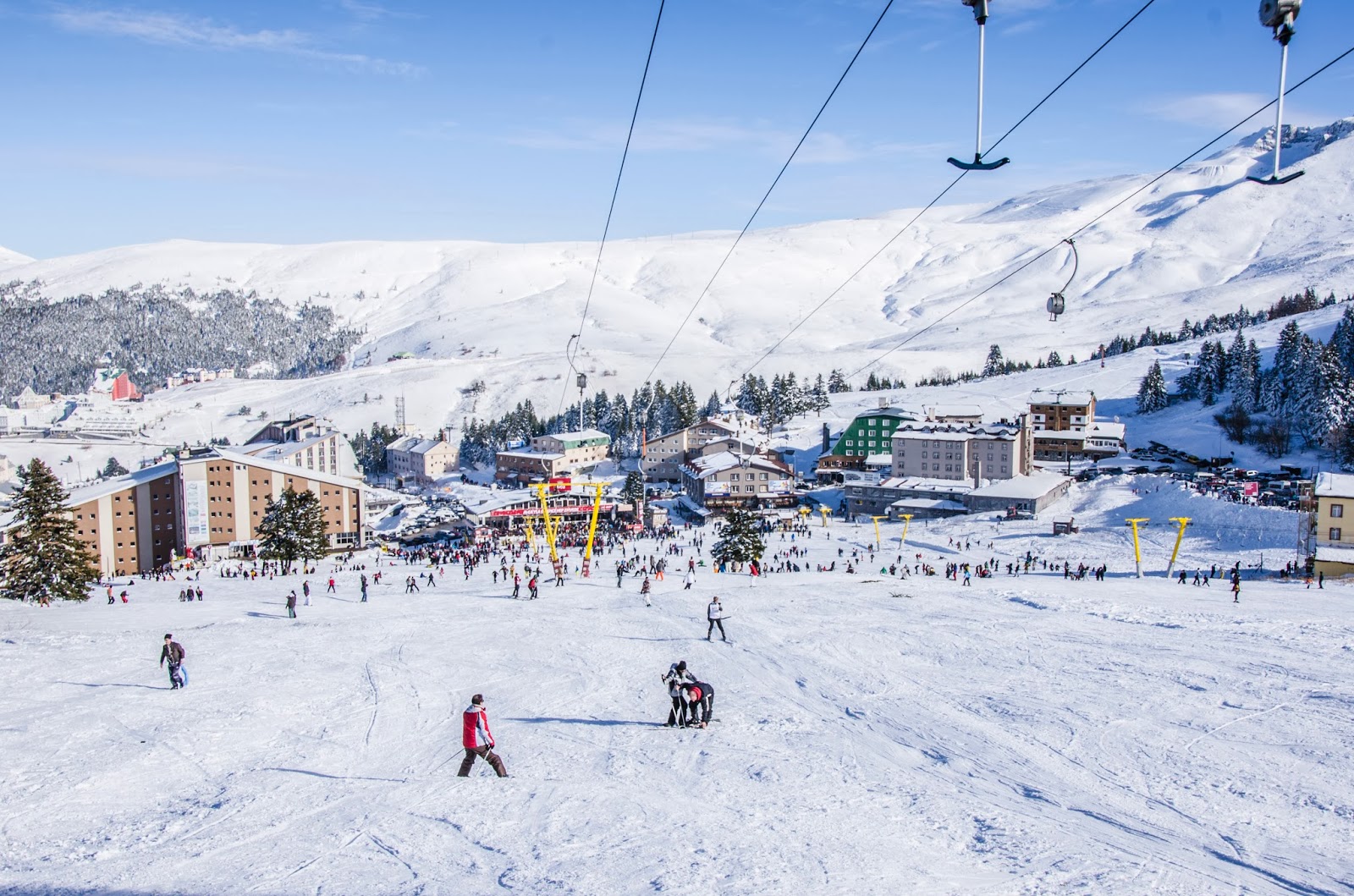 You may think that Turkey is not popular with skiing however it has many ski resorts and improvements are made for winter sports. Uludag is one of the most important winter sport locations in Turkey. Uludağ takes place in Bursa which is a historical city. There are two parts in Uludag. First one is open and can be visited while second one is restored as more visitors come every year. Ski Centre in Uludag is a perfect place to start skiing. You may find equipment about skiing in this area and you can use ski schools to improve yourself.
The Delights of Antalya City Centre
Antalya is very popular during summer season and it is always very crowded in that time. However, the city centre of Antalya stays active in every season. Antalya is one of the hottest cities of Turkey in winter. Modern shopping centres welcome you with cinemas, nightlife and entertainment advantages. For history lovers, the city presents you ancient cities such as Aspendos and Thermos. Kaleici and Hadrian's gate should also be on your list if you come to Antalya. If you love outdoors, you may even visit Mount Tahtali which might be covered in snow. And Trekking, skiing, paragliding can be experienced.
Ancient Ephesus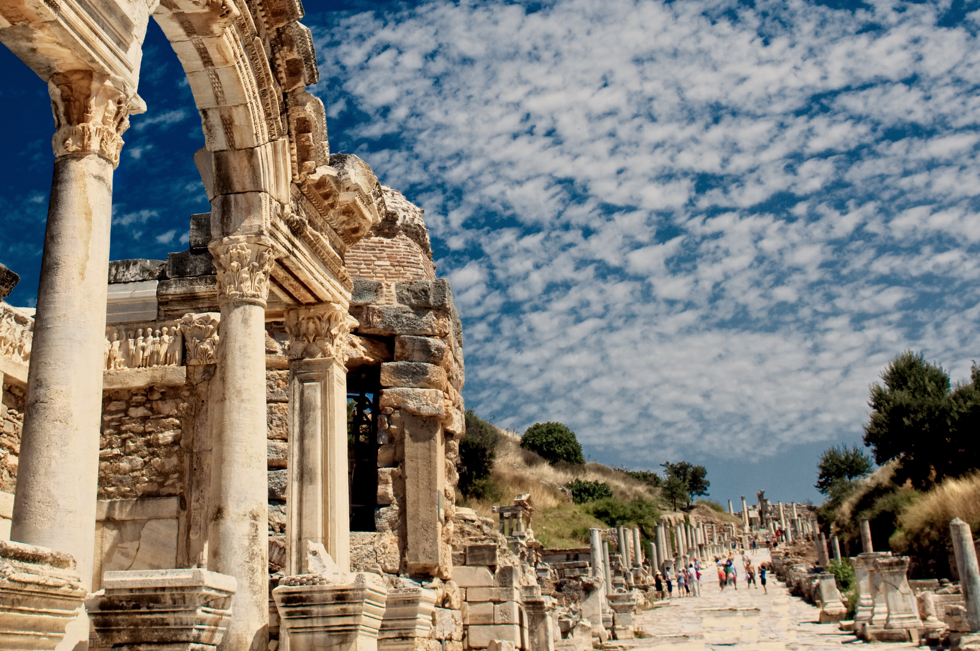 As the most visited historical region in Turkey, Ephesus is mostly visited during summer seasons. Many tourists from different cultures come to Selçuk to see Ephesus with different tours or holiday plans. But, Ephesus is also active in winter season. Ephesus is not crowded during winter and it gives you a chance to look at historical work of arts more deeply. You may see ancient with 25,000 seats, Celsus Library one had more than 11,000 scrolls and Roman terraced houses where rich Byzantines lived. As it is an agricultural region, Selçuk town is also active during winter season. In Selçuk, you may visit Saint John's Basilica, Isa Bey Mosque and Temple of Artemis which is one of the Seven Wonders of the World. Virgin Mary's house is also waiting to be visited in Selçuk.
Finally
If you prefer a city break during winter holidays, you may also visit İstanbul and Konya. City of Konya is host to the home of Rumi, one of the most famous poets. Izmir has an ancient agora which has been built by Alexander the Great. It does not matter wherever you go in Turkey but you must not ignore villages when you are in Turkey. The real tradition of Turkey stays behind in those villages.